Congratulations Jessica Lee, TSPA Fargo Spa School Student of the Month!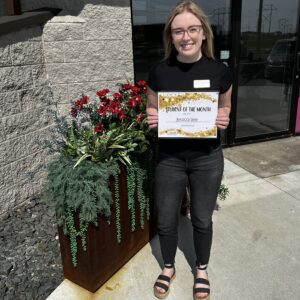 Jessica is fairly new to TSPA, but she has already made a great impression on our staff and her fellow students. She is a kind, hard working student. Jessica is a natural when it comes to esthetics. See all of the categories Jessica and our other students lead in March by clicking here.
Get To Know Jessica:
Q- Where is your hometown?
A- Grand Forks, ND
Q- How long have you been a student at TSPA?
A-  Since February
Q- What is your favorite food?
A- Anything Carbs
 Q- Why did you choose The Salon Professional Academy?
A- I knew I would get the best education here and loved the place when I toured it.
 Q- Why did you decide to pursue a career in Esthetics?
A- It was always something I was interested in since high school. I always ended up doing makeup/hair for my friends for special occasions and dances.
 Q- What is your favorite movie?
A- Mamma Mia
 Q- What one word best describes TSPA?
A- Energetic
 Q- What is your favorite thing about TSPA?
A- All the friends I have made
 Q- Who is your favorite band/music artist?
A-  Papa Roach
Q- When did you first become interested in a career in Esthetics?
A- Freshman year of high school
Q- What do you plan to do after you graduate?
A- To find a place that I would enjoy working for years, and eventually get certified in permanent makeup
Q- What do you like to do in your spare time?
A- Reading and cleaning
Do any of Jessica's answers sound like something you would say? If you are interested in enrolling in Cosmetology, Massage Therapy, Esthetics or Nail Tech school, learn more by clicking here.