Congratulations Courtney for earning TSPA Fargo Esthetics School Student of the Month!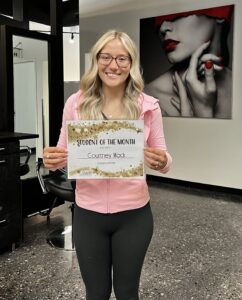 Courtney is always helpful, kind and caring toward classmates. She has a very positive attitude and has not missed a day of class since starting at TSPA. See all of the categories Courtney and our other students lead in May by clicking here.
Get To Know Courtney:
Q- Where is your hometown?
A- Jamestown, ND
Q- How long have you been a student at TSPA?
A-  Since April
Q- What is your favorite food?
A- Pizza
 Q- Why did you choose The Salon Professional Academy?
A- It was highly recommended by a lot of people I know.
 Q- Why did you decide to pursue a career in Esthetics?
A- I did a lot of treatments to myself at home. Then I had a lot of family tell me I should make a career out of it.
 Q- What is your favorite movie?
A- Footloose
 Q- What one word best describes TSPA?
A- Outgoing
 Q- What is your favorite thing about TSPA?
A- The educators and the exciting environment everyone brings.
 Q- Who is your favorite band/music artist?
A-  Shania Twain/Alan Jackson
Q- When did you first become interested in a career in Esthetics?
A- Senior year of high school.
Q- What do you plan to do after you graduate?
A- Move back home and work with my sister
Q- What do you like to do in your spare time?
A- Spend time outside.
Do any of Courtney's answers sound like something you would say? If you are interested in enrolling in Cosmetology, Massage Therapy, Esthetics or Nail Tech school, learn more by clicking here.