TSPA Fargo Cosmetology School Student of the Month Awarded to Lindsay McFarlane!
As Lindsay nears graduation, it is clear to all of us at TSPA that she is a very talented cosmetologist, but above that she is a kind and helpful person. Lindsay is always there to help out fellow students as well as educators. High attendance has helped her become an amazing cosmetologist!  Learn more about Lindsay's and our other students awards by clicking here.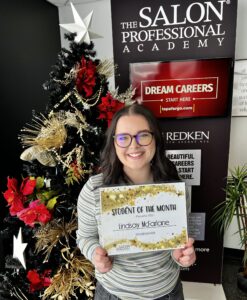 Get to know Lindsay:
Q- Where is your hometown?
A- Roseau, MN
Q- How long have you been a student at TSPA?
A-  11 Months
Q- What is your favorite food?
A- My Mom's Chicken Fajitas
 Q- Why did you choose The Salon Professional Academy?
A- Because when I toured here they had a great environment and very welcoming staff.
 Q- Why did you decide to pursue a career in Cosmetology?
A- I had a friend convince me to tour TSPA!
 Q- What is your favorite movie?
A- Miracle
Q- Describe TSPA in one word.
A- Crazy
 Q- What is your favorite thing about TSPA?
A- The educators. They truly care about their students.
 Q- Who is your favorite band/music artist?
A-  Shania Twain
Q- When did you first become interested in a career in Cosmetology?
A- While I was at Mayville State in 2021.
Q- What advice would you give to other students wanting to achieve high levels of success like you have?
A- Do your best and ask for help.
Q- What do you plan to do after you graduate?
A- Work in Rolla, ND with my good friend Lexi W.
Q- What do you like to do in your spare time?
A- Spend time with my cat Scooter.