Congratulations Tori, for being awarded Cosmetology Student of the Month!
Tori  has a wonderful, outgoing personality and is always there to help other students, and staff.  She always makes fellow students and guests feel welcome. See all of the categories Tori and our other students lead in February by clicking here.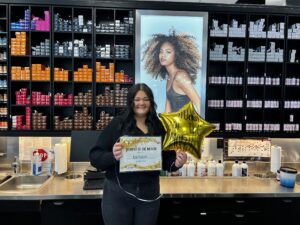 Get to know Tori:
Q- Where is your hometown?
A- Fisher, MN
Q- How long have you been a student at TSPA?
A-  Since October 2022
Q- What is your favorite food?
A- Pasta
 Q- Why did you choose The Salon Professional Academy?
A- Because I wanted the best possible education with the hours I needed to complete.  After my tour I truly felt I would get that at TSPA, and I have.
 Q- Why did you decide to pursue a career in Cosmetology?
A- I chose Cosmetology because I really didn't like college. In all honesty I always wanted to do hair, and after 4 years of college I just decided to take the leap!
 Q- What is your favorite movie?
A- A Cinderella Story
 Q- What is one word best describes TSPA?
A- Fun!
 Q- What is your favorite thing about TSPA?
A- I like that the educators care about our education. Also the people I have met along the way ❤️
 Q- Who is your favorite band/music artist?
A-  Cody Johnson
Q- When did you first become interested in a career in Cosmetology?
A- When I was younger. I always loved doing my friends' hair in high school, and doing my Barbie doll's hair.
Q- What do you plan to do after you graduate?
A- I plan to work at my friend's salon, which she is opening in our home town!
Q- What do you like to do in your spare time?
A- Sleep, binge watch shows and hang with friends and family.
Do any of Tori's answers sound like something you would say? If you are interested in enrolling in Cosmetology, Massage Therapy, Esthetics or Nail Tech school, learn more by clicking here.