Join us in congratulating TSPA Fargo Esthetics Student, Kassandra Sanchez as our Student of the Month!
Kassandra is very passionate about esthetics and helping her guests look and feel their best. She has grown her clientele very quickly, has a very positive energy, and is always willing to help others   Kassandra also jumped to a level 2 at our recent Jump Celebration which can be seen here.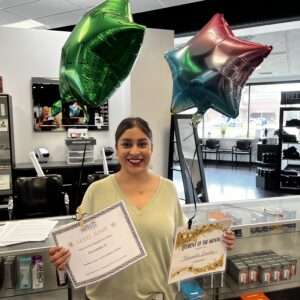 Get to know Kassandra:
Q- Where is your hometown?
A- Pelican Rapids, MN
Q- How long have you been a student at TSPA?
A-  Since July 2022
Q- What is your favorite food?
A- All Mexican Food.
 Q- Why did you choose The Salon Professional Academy?
A- I've heard great things about TSPA and love that they help you get prepared and set up for the industry
 Q- Why did you decide to pursue a career in Esthetics?
A- I have always loved beauty. My mom always taught my sisters and I to take care of our skin and ourselves. I love that I will be able to bring peace to someone's life and make them feel taken care of and beautiful.
 Q- What is your favorite movie?
A- Lion King
 Q- Describe TSPA in one word.
A- Opportunity
 Q- What is your favorite thing about TSPA?
A- Any and every question I have is answered or an answer is found. I love that I can be myself and not judged.
Q- Who is your favorite band/music artist?
A- My favorite genres are R&B, Country and Spanish music.
Q- When did you first become interested in a career in Cosmetology?
A- When I had my first facial.
Q- What advice would you give to other students wanting to achieve high levels of success like you have?
A- Be an advocate for yourself.
Q- What do you plan to do after you graduate?
A- I plan to open my own spa in Pelican Rapids. I have a location already, and will be ready to open by or before 2023.
Q- What do you like to do in your spare time?
A- Spend time outdoors with my kids and fiance. Bike rides, walks, kayaking, swimming and fishing.