Join us in congratulating Sam as our TSPA Fargo Cosmetology School Student of the Month!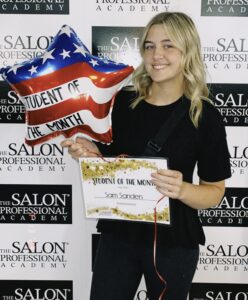 Sam has a positive vibe and is always willing to help out. She is great with her guests, and her colors and highlights are spot on. See all of the categories Sam and our other students lead in June by clicking here.
Get To Know Sam:
Q- Where is your hometown?
A- Crookston, MN
Q- How long have you been a student at TSPA?
A-  Since August 2022
Q- What is your favorite food?
A- Spaghetti
 Q- Why did you choose The Salon Professional Academy?
A- It was close to my home and right when I walked in for my enrollment meeting I loved the energy.
 Q- Why did you decide to pursue a career in Cosmetology?
A- I love to see people smile because I am a people pleaser.
 Q- What is your favorite movie?
A- A Star is Born or Purple Hearts
 Q- What one word best describes TSPA?
A- Fun
 Q- What is your favorite thing about TSPA?
A- Seeing all my friends everyday, and making people feel beautiful when they sit in my chair.
 Q- Who is your favorite band/music artist?
A-  I will listen to anything, I don't really have a favorite.
Q- When did you first become interested in a career in Cosmetology?
A- I became interested when I started volleyball in 8th grade and I did everyones hair.
Q- What advice would you give to other students wanting to achieve high levels of success like you have?
A- Always keep pushing! You are amazing and don't let people judge you! You always have support here.
Q- What do you plan to do after you graduate?
A- I will be moving to Grand Forks and working at a commission based salon for 1,000 hours and then booth renting.
Q- What do you like to do in your spare time?
A- I like to go home or to the lake on weekends and hang out with friends.
Do any of Sam's answers sound like something you would say? If you are interested in enrolling in Cosmetology, Massage Therapy, Esthetics or Nail Tech school, learn more by clicking here.