We are proud to announce our April student of the month, Massage Therapy Student, Taylor Solinger-Gaines.
Taylor is a dedicated, hard-working student passionate about helping others feel their best. Many congratulations, Taylor!!! We are very proud of you!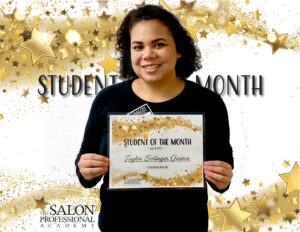 Get to know Taylor…
Where is your hometown?
Nortonville, North Dakota
How long have you been a student at TSPA?
5 months
Why did you choose TSPA?
 I chose TSPA because I felt that it would help me be successful in my dream career.
Why did you decide to pursue a career in Massage Therapy?
I chose Massage Therapy because I feel that I will make a difference in someone's life spiritually, mentally and physically.
Describe TSPA in one word.
Cheerful
What is your favorite thing about TSPA?
My favorite thing about TSPA is the friendly environment. I have made so many friends!
When did you first become interested in a career in Massage Therapy?
I was always interested in becoming a massage therapist since I was a little girl. I love helping people relax and relieve their stress. 
What are your plans after you graduate?
I plan to stay in Fargo-Moorhead and maybe pursue a career at Elie Therapeutic Massage & Health Partners in Moorhead, MN, or Revive Professional Massage Therapy Clinic.
What is your favorite quote?
Meet me in the middle of your story when the soul is worn but wise –              Angie Weiland-Crosby