Congratulations Nikki!
Nikki is very passionate about esthetics and the results she brings to her clients. She is a member of our student council and sets her standards high. Nikki is outgoing, caring and funny! She brings happiness to her clients.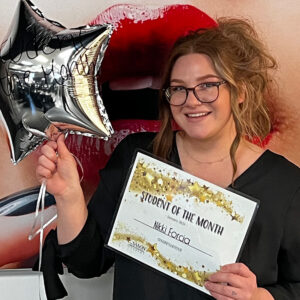 Get to know Nikki:
Q- Where is your hometown?
A- Saint Cloud, MN
Q- How long have you been a student at TSPA?
A-  Since November 28th, 2022
Q- What is your favorite food?
A- CARBS – potatoes, anything yummy.
 Q- Why did you choose The Salon Professional Academy?
A- I wanted to expand & further my knowledge about esthetics. I am really passionate about skin and making people feel great about themselves.
 Q- Why did you decide to pursue a career in Esthetics?
A- I want to make people feel good about themselves. I want to learn and teach people about their skin. I love personal relationship with my clients.
 Q- What is your favorite movie?
A- Anything comedy. I like to enjoy a good belly-laughing, knee slapping comedy.
 Q- What is your favorite thing about TSPA?
A- Like minded people. Fun educators. Room to express myself.
Q- Who is your favorite band/music artist?
A- Joyner Lucas, Juice World, Leon Bridges and Dr Dog.
Q- When did you first become interested in a career in Cosmetology?
A- When I was 13. You should have seen my skin care back then. Yikes!
Q- What advice would you give to other students wanting to achieve high levels of success like you have?
A- Set goals and standards that are achievable and fun. Mind your manors. Make friends that also have high standards. Build clientele with honesty, professionalism and respect.
Q- What do you plan to do after you graduate?
A- I'm looking into dermatology.
Q- What do you like to do in your spare time?
A- Chill with friends & family, paint, draw and summer bicycling.