Congratulations Skyler for being awarded Cosmetology Student of the Month!
Skyler is a leader among our students and is always there to help other students, educators, and with projects like our annual participation in The Christmas Gift fashion show. She always makes fellow students and guests feel welcome. Skyler is a member of our student council, and is going to do very well in the world of beauty. See all of the categories Skyler and our other students lead in December by clicking here.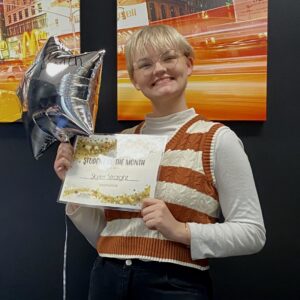 Get to know Skyler:
Q- Where is your hometown?
A- Portland, ND
Q- How long have you been a student at TSPA?
A-  13 Months (Graduating soon!)
Q- What is your favorite food?
A- Alfredo with Angel hair pasta
 Q- Why did you choose The Salon Professional Academy?
A- I chose TSPA because it seemed like an environment that I would thrive in. The students that I met when I toured looked like they really enjoyed TSPA.
 Q- Why did you decide to pursue a career in Cosmetology?
A- I am very interested in art and I felt that cosmetology was a great way to expand my love for art.
 Q- What is your favorite movie?
A- Dirty dancing or Mamma Mia
 Q- What is your favorite thing about TSPA?
A- The educators. They're always there to listen and joke around. Also the students. I have made some lifelong friendships while being at TSPA
 Q- Who is your favorite band/music artist?
A-  There's a lot, but my top favorites are Lil Wayne, Sam Smith and Harry Styles!
Q- When did you first become interested in a career in Cosmetology?
A- I always loved doing my hair, makeup and nails since I was young.
Q- What advice would you give to other students wanting to achieve high levels of success like you have?
A- Just be yourself and you will attract the clients that you want to have. Don't be picky at first, give yourself a few months to discover your niche.
Q- What do you plan to do after you graduate?
A- I am going to work as a nail tech at Wild Side Salon in Mayville, ND!
Q- What do you like to do in your spare time?
A- I love to read books! I read 150 books last year! I also love to experiment with different Pinterest recipes!