Congratulations to Macey Gordon, March student of the month! Macey is enrolled in our Cosmetology program, and has accomplished so much in her time here at TSPA – showing up as a leader in many categories each month. She is a second generation cosmetologist, and no doubt learned a lot from her amazing mother, Shelly! Best wishes for an amazing beauty career, Macey!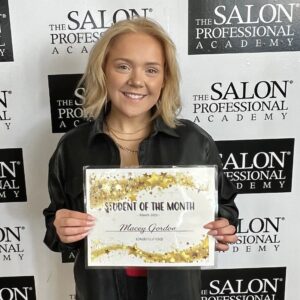 Get to know Macey:
Q- Where is your hometown?
A- Ada, MN
Q- How long have you been a student at TSPA?
A-  13 Months (this is my final month!)
Q- What is your favorite food?
A- Chinese
 Q- Why did you choose The Salon Professional Academy?
A- I chose TSPA because I have always loved the environment here and looked up to the staff.
 Q- Why did you decide to pursue a career in Cosmetology?
A- Because it allows me to be creative, while still providing for others..
 Q- What is your favorite movie?
A- Shrek
 Q- Describe TSPA in one word.
A- Passion
 Q- What is your favorite thing about TSPA?
A- The friends and staff that feel like family. ❤️
Q- Who is your favorite band/music artist?
A- Miranda Lambert   
Q- When did you first become interested in a career in Cosmetology?
A- It was always something people told me I should do, but I didn't know I would love it so much until I came to TSPA.
 Q- What are your plans after you graduate?
A- Continuing to learn and grow in this industry and see where it takes me.
Q- What do you like to do in your spare time?
A- I enjoy painting, traveling and spending time with the people I love.