We are proud to announce our May Student of the Month, Esthetics Student, Miah Berg.
Miah also earned the $500 Club award and Jumped to level 3 at this month's Jump Celebration in addition to being named student of the month! Huge congratulations, Miah!!! You are a Rock Star!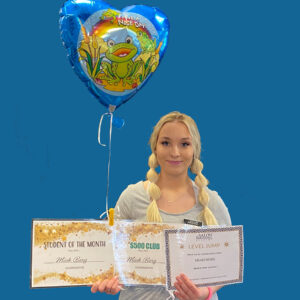 Get to know Miah…
Where is your hometown?
Moorhead, MN
How long have you been a student at TSPA?
3 months
Why did you choose TSPA?
I've always had a passion for the beauty industry. I loved the tour here, it felt like home.
Why did you decide to pursue a career in Esthetics?
My main goal is to leave my clients feeling beautiful and confident in their own skin.
Describe TSPA in one word.
Beautiful
What is your favorite thing about TSPA?
The educators, friendly environment and the people make you feel loved here.
When did you first become interested in a career in Esthetics?
My senior year. 
What are your plans after you graduate?
I want to continue my education and become an LPN so I can do more advanced skin services.
Anything you would like to add?
I am just so grateful for the opportunities I've had here. I look forward to God's future plan for me.