Congratulations to Tyra Peterson, for achieving the highest level ever achieved by a cosmetology student at The Salon Professional Academy! She has hit Level 4 a total of 7 times, also known as Level 4, 6X Honors That means Tyra has met her jump goal every month since she first set foot in the Student Salon Training Area! No other cosmetology student has ever done that! The previous record was Level 4, 4X Honors, which is also a major achievement accomplished by only 1 student. What are levels and jumping? In the salon and spa industry, many businesses use a level system which distinguishes higher-level stylists/service providers. You reach the higher levels based on metrics like the number of haircuts, colors, other chemical treatments, add-on services, and a long list of additional requirements. It's definitely not easy to do. You need the technical skills, personal skills, communication skills, and marketing skills. Tyra has accomplished all of these and more, and we are very proud to have her as a student at TSPA Fargo! She will definitely have a successful career in the beauty industry!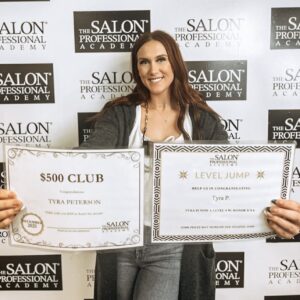 Get to know Tyra:
Q- Where is your hometown?
A- Hitterdal, MN
 Q- Why did you decide to pursue a career in Cosmetology?
A- I always idolized my hairdresser & looked forward to my hair appointments. I would feel so confident every time I left the salon & I wanted the opportunity to be that person for someone else.
Q- What is your favorite food?
A- Taco Bell
 Q- Why did you choose The Salon Professional Academy?
A- Every Person I talked with about a career in cosmetology had gone to TSPA, and I liked how structured it had seemed.
 Q- What is your favorite movie?
A- I don't have a favorite movie, but I love The Office and Bridgerton series.
 Q- Describe TSPA in one word.
A- Unforgettable
 Q- What is your favorite thing about TSPA?
A- The friendships and connections I've made with my classmates and clients.
Q- Who is your favorite band/music artist?
A- Olivia Rodrigo
Q- When did you first become interested in a career in Cosmetology?
A- In High School
Q- What advice would you give to other students wanting to achieve high levels of success like you have?
A- Your career starts HERE. Put in the effort, build your clientele, make connections, do things you're scared of, and learn from your mistakes!
 Q- What are your plans after you graduate?
A- I have accepted a position as a full-time stylist and Recruitment Manager at MJ Capelli.
Q- What do you like to do in your spare time?
A- Napping & Shopping 🙂