Congratulations to Krysti Bench, October student of the month! Krysti is enrolled in our Cosmetology program. She also qualified for level 3 cosmetologist in addition to earning Student Of The Month at our October Jump Celebration. Krysti has a great sense of humor, and keeps us all smiling!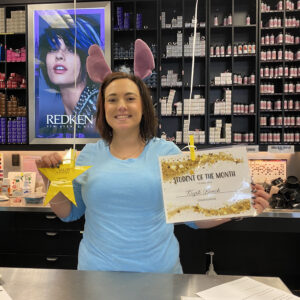 Get to know Krysti:
Q- Where is your hometown?
A- Page, ND
Q- How long have you been a student at TSPA?
A- 1 year
Q- What is your favorite food?
A- Mexican Food
 Q- Why did you choose The Salon Professional Academy?
A- I was a client here one time, and I just really enjoyed the atmosphere.
 Q- Why did you decide to pursue a career in Cosmetology?
A-  I wanted a career that is fulfilling, rewarding and fun.
Q- What is your favorite movie?
A- Any Harry Potter movie.
 Q- Describe TSPA in one word.
A- Fresh
 Q- What is your favorite thing about TSPA?
A- The educators.
Q- Who is your favorite band/music artist?
A- Match Box 20
 Q- When did you first become interested in a career in Cosmetology?
A- In 2019 I was working as an administrative assistant and parted ways with the job when Covid hit. I thought about what I wanted to be doing during the time I was home with my son, and decided Cosmetology was best for me.
 Q- What are your plans after you graduate?
A- I would live to work at Hair Success doing hair, nails and lashes.
Q- What do you like to do in your spare time?
A- I like to spend time with my 3 sons and my fiance.