Congratulations to Brooke Bueng, November student of the month! Brooke is enrolled in our Cosmetology program. She also Jumped to Level 4 With Honors in addition to earning Student Of The Month at our November Jump Celebration. Brooke is a very talented Cosmetology Student, and a hard worker. Earning level 4 with honors is very rare.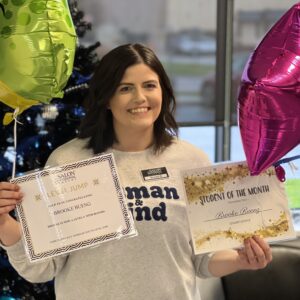 Get to know Brooke:
Q- Where is your hometown?
A- Ada, Minnesota
Q- How long have you been a student at TSPA?
A- About a year, this is my last month before I graduate.
Q- What is your favorite food?
A- Chips & Salsa
 Q- Why did you choose The Salon Professional Academy?
A- I have heard so many great things about the atmosphere and education at TSPA.
 Q- Why did you decide to pursue a career in Cosmetology?
A-  Because I wanted to make people feel good about themselves and like what they see in the mirror.
Q- What is your favorite movie?
A- Elf
 Q- Describe TSPA in one word.
A- AMAZING!!
 Q- What is your favorite thing about TSPA?
A- Mickey (Lead Student Training Area Educator)
Q- Who is your favorite band/music artist?
A- Carly Pearce
 Q- When did you first become interested in a career in Cosmetology?
A- My love for hair started at a very young age. I would spend a lot of my time playing with my doll's hair and my family's.
 Q- What are your plans after you graduate?
A- Joining Escape Salon in Ada!
Q- What do you like to do in your spare time?
A- Spend time with my kids, Significant Other, and family.