Join us in congratulating Cam as TSPA Fargo Cosmetology School Student of the Month!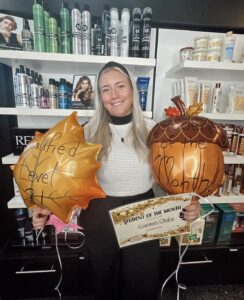 Cam is very dedicated to her career. Her guests love her, and she is a talented cosmetology student, always willing to help fellow students. We are proud to have Cam at TSPA Fargo and are excited to see her succeed in the beauty industry! See all of the categories Cam and our other students lead in October by clicking here.
Get To Know Cam:
Q- Where is your hometown?
A- Morris, MN
Q- How long have you been a part-time student at TSPA?
A-  13 months
Q- What is your favorite food?
A- Tater Tot Hot Dish
 Q- Why did you choose The Salon Professional Academy?
A- I chose TSPA because of the welcoming + fun energy when I came to tour. I knew right away that this would be my second home for the next 18 months as a part-time student.
 Q- Why did you decide to pursue a career in Cosmetology?
A- My grandma was a cosmetologist, but I never got a chance to meet her so its a way to feel connected to her!
 Q- What is your favorite movie?
A- Mamma Mia
 Q- What one word best describes TSPA?
A- Authentic
 Q- What is your favorite thing about TSPA?
A- My favorite thing about TSPA is the relationships I have gained.
The people + friends you meet shaped me into the stylist I am.
Couldn't be more thankful
 Q- Who is your favorite band/music artist?
A-  Ian Munsick
Q- When did you first become interested in a career in Cosmetology?
A- I started doing hair when I was in elementary school. I got the title of "Team Braider" in sports. I started really considering it as a career my senior year of high school.
Q- What do you plan to do after you graduate?
A- I will be moving back to my hometown! I hope to find a forever place there!
Q- What do you like to do in your spare time?
A- Visit friends and family.
Do any of Cam's answers sound like something you would say? If you are interested in enrolling in Cosmetology, Massage Therapy, Esthetics or Nail Tech school, learn more by clicking here.