Congratulations to Ashlee Rimpila, December student of the month! Ashlee is enrolled in our Cosmetology program. She is nearing graduation and was working on her "Total Look" model when receiving her student of the month award during our "Glitz & Glam Holiday themed Jump Celebration. (check out the video by clicking here) That's what we call dedication! Ashlee is a very gifted Cosmetology Student, and will be turning heads in the beauty industry soon!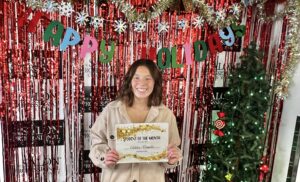 Get to know Ashlee:
Q- Where is your hometown?
A- New York Mills, Minnesota
Q- How long have you been a student at TSPA?
A-  I started August 2020
Q- What is your favorite food?
A- Sushi
 Q- Why did you choose The Salon Professional Academy?
A- I heard a lot of good things about the school itself, and how it's a structured program. I knew that I needed a structured program for myself, and I can say I have thrived off of it !
 Q- Why did you decide to pursue a career in Cosmetology?
A- Well, technically TSPA is my 3rd school I've been to. I first started with my generals at MSTATE Fergus Falls for my generals and then transferred to MSUM for elementary education. I wasn't the happiest I could've been with that schooling, so when the pandemic started I decided this is the time to go for something that has always intrigued me, which was hair. I always loved having my hair done and watching tutorials and playing hairstylist with my babysitters, so I guess it just made sense ! 
 Q- Describe TSPA in one word.
A- Family
 Q- What is your favorite thing about TSPA?
A- The support you get there and outside the school. Everyone is there to see you grow and achieve, with cosmetology and life itself.
Q- Who is your favorite band/music artist?
A- Post Malone
 Q- What are your plans after you graduate?
A- Taking a few months off to get all my exams taken care of, and getting my MN license, as well as working at my current job. Once everything is settled I am planning to be moving to the Woodbury area and finding a salon once I get there. 
Q- What do you like to do in your spare time?
A- I really enjoy reading and spending time with my friends and family.