Join us in congratulating Leya as TSPA Fargo Cosmetology School Student of the Month!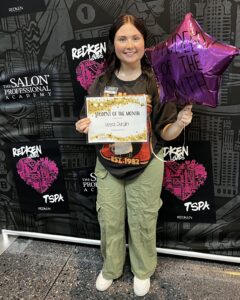 Leya is a joy to be around. Her guests love her, and she is a talented cosmetology student. We are proud to have Leya at TSPA Fargo and are excited to see her succeed in the beauty industry! See all of the categories Leya and our other students lead in July by clicking here.
Get To Know Leya:
Q- Where is your hometown?
A- Park Rapids, MN
Q- How long have you been a student at TSPA?
A-  9 months
Q- What is your favorite food?
A- Birria Tacos
 Q- Why did you choose The Salon Professional Academy?
A- It is close to my family, so they can come in to see me for services….and give me big tips! 😉
 Q- Why did you decide to pursue a career in Cosmetology?
A- I was deciding between Cosmo or becoming a therapist. I Chose Cosmo because I can still listen to peoples stories while using my creative energy.
 Q- What is your favorite movie?
A- Pulp Fiction
 Q- What one word best describes TSPA?
A- Energetic
 Q- What is your favorite thing about TSPA?
A- The loud energy and teamwork among students and staff.
 Q- Who is your favorite band/music artist?
A-  Mac Miller & J Cole
Q- When did you first become interested in a career in Cosmetology?
A- I grew Up doing my younger sister's hair and makeup, which I loved to do, so they inspired me to make a Career out of it.
Q- What do you plan to do after you graduate?
A- I plan to stay around Fargo for a few years to get experience at a salon.
Q- What do you like to do in your spare time?
A- I love to cook, bake, spend time with friends & family and do arts & crafts.
Do any of Leya's answers sound like something you would say? If you are interested in enrolling in Cosmetology, Massage Therapy, Esthetics or Nail Tech school, learn more by clicking here.