In recent years, there has been a growing shortage of massage therapists across the United States
As the demand for alternative therapies and wellness services increases, the shortage of skilled professionals poses a significant challenge for the industry. However, attending a reputable massage therapy school, such as The Salon Professional Academy (TSPA) Fargo, can offer a promising path towards becoming a licensed massage therapist and meeting the demand for this rewarding career.
The Growing Need for Massage Therapists
In today's fast-paced world, people are increasingly seeking natural and holistic approaches to manage stress, pain, and overall well-being. Massage therapy has emerged as an effective solution for various health concerns, including muscle tension, anxiety, and even certain medical conditions. Consequently, the demand for skilled massage therapists has surged in recent years.
Shortage of Massage Therapists
Unfortunately, the supply of qualified massage therapists has struggled to keep up with this rising demand. Several factors contribute to the shortage, including an aging workforce, limited training opportunities, and a lack of awareness about the benefits of massage therapy as a career choice. To address this gap, it is crucial to encourage individuals interested in this field to pursue education and training at reputable massage therapy schools.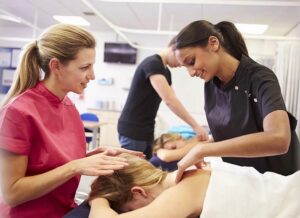 Attending TSPA Fargo Massage Therapy School
The Salon Professional Academy (TSPA) Fargo stands out as a premier institution for those aspiring to become licensed massage therapists. TSPA Fargo offers comprehensive massage therapy programs that equip students with the necessary skills and knowledge to succeed in the industry, and they are accredited: offering Financial Aid to those who qualify. Here are some reasons why attending TSPA Fargo Massage Therapy School can be a transformative experience: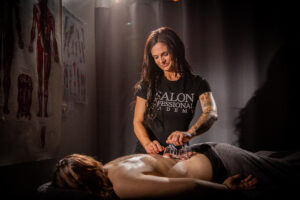 Expert Faculty: TSPA Fargo boasts a team of experienced instructors who are passionate about their craft and committed to providing high-quality education. With their guidance, students can acquire a deep understanding of massage techniques, anatomy, physiology, and client care.
Well-Structured Curriculum: The massage therapy program at TSPA Fargo is thoughtfully designed to cover a wide range of massage techniques, including Medical, Hot Stone, Cupping Swedish, Deep Tissue, Sports massage, and more. The curriculum also includes coursework on ethics, business practices, and client communication, ensuring students are well-rounded professionals upon graduation.
Hands-On Experience: TSPA Fargo Massage Therapy School emphasizes practical training, allowing students to develop their skills through extensive hands-on practice. With access to a well-equipped training facility, students gain real-world experience, working on clients under the supervision of experienced instructors.
Licensing Preparation: TSPA Fargo's massage therapy program prepares students for the state licensing exam, a crucial step towards becoming a licensed massage therapist. Through comprehensive exam preparation and guidance, students are well-prepared to embark on their professional journey upon graduation.
Career Support: TSPA Fargo understands the importance of career development and provides ongoing support to students even after they graduate. The school maintains strong relationships with local employers, facilitating job placement opportunities for their graduates.
Conclusion
The shortage of massage therapists presents an excellent opportunity for individuals interested in pursuing a career in this rewarding field. By attending a reputable massage therapy school like TSPA Fargo Massage Therapy School, aspiring therapists can acquire the necessary skills and knowledge to meet the increasing demand. With expert faculty, a well-structured curriculum, hands-on experience, and comprehensive licensing preparation, TSPA Fargo equips students for success in the massage therapy industry. By taking this step, not only can individuals embark on a fulfilling career but also contribute to the overall well-being and health of their communities.
Learn More About Becoming a Massage Therapist by Clicking Here