Congratulations Kathrine Allen-Opp for winning TSPA Fargo Cosmetology Student of The Month!
Kathrine is a kind, giving person. She is a talented team player willing to help with anything. Any salon that she works at will be blessed. See all of the categories Kathrine and our other students lead in April by clicking here.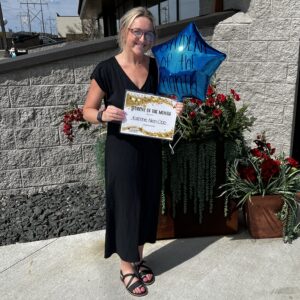 Get to know Kathrine:
Q- Where is your hometown?
A- Alexandria, MN
Q- How long have you been a student at TSPA?
A-  Since September 2022
Q- What is your favorite food?
A- Pizza and strawberries
 Q- Why did you choose The Salon Professional Academy?
A- I felt like it was a good atmosphere and that you are getting the best education with the 1800 hour program.
 Q- Why did you decide to pursue a career in Cosmetology?
A- I have always found a love for hair and wanting to make people the best versions of themselves.
 Q- What is your favorite movie category?
A- Romcom
 Q- What one word best describes TSPA?
A- Fun
 Q- What is your favorite thing about TSPA?
A- Getting to make people feel beautiful and learning about my passion with good friends and a good atmosphere.
 Q- What is your favorite music genre?
A-  Country
Q- When did you first become interested in a career in Cosmetology?
A- When I was little and then the interest went away. I gained it back Junior year of high school.
Q- What do you plan to do after you graduate?
A- Move back home to Alexandria and work at a salon as an employee to grow my clientele to hopefully own something of my own some day.
Q- What do you like to do in your spare time?
A- Hang out with friends and family on the lake.
Do any of Kathrines's answers sound like something you would say? If you are interested in enrolling in Cosmetology, Massage Therapy, Esthetics or Nail Tech school, learn more by clicking here.