At The Salon Professional Academy (TSPA) we know achievements in school translate to achievements in your professional career. That's why we like to reward our students for their hard work and dedication.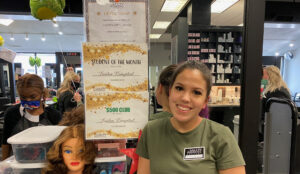 It's a big deal to earn one award at our monthly Jump Celebration, but earning 2 is unheard of… until today! Jaiden not only jumped to a level 2 cosmetologist by meeting the set requirements, she also earned a rare spot in the $500 club by selling $551 in retail products, and topped that off by being selected as student of the month! All we can say is "WOW!!!". Jaiden is certainly on her way to an amazing career in cosmetology.
Many congratulations, Jaiden!!! We are so,so proud of you!
Get to know Jaiden…
Where is your hometown?
Hoople, North Dakota
How long have you been a student at TSPA?
Since September 2020
Why did you choose TSPA?
When I checked it out for the first time it felt like home and the vibe was amazing.
Why did you decide to pursue a career in Cosmetology?
I have always been creative. I also love to make people feel good about themselves.
Describe TSPA in one word.
Inspiring.
What is your favorite thing about TSPA?
The teachers and staff!! They are all so nice and give lots of good tips.
When did you first become interested in a career in Cosmetology?
Freshman year of high school.
What are your plans after you graduate?
I plan to work at a salon in Fargo and eventually open my own.
Would you like to be the next Jaiden? Learn More